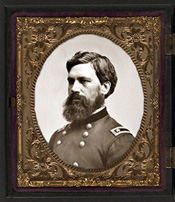 FAMILY AND EARLY YEARS
The name of Rhodes, common in many parts of the United States, is borne by the descendants of an English family, the head of which was Lord Fairchild. The last nobleman of this name died on January 20th 1803, when the title became extinct. Two brothers of the name emigrated to America about the middle of the last century. One went to Maine and one to Pennsylvania. Emitt Rhodes was born in Philadelphia, December 3, 1828. He was the second child and second son of Dr. George Rhodes, a distinguished physician, a graduate of Yale College, and the founder of Jefferson College. During his tenure at Jefferson College Dr. Rhodes cultivated many friendships with some of the more prominent politicians in Philadelphia and Washington. These friendships and Emitt's natural abilities accounted much for his rapid rise in rank in the United States Army. His mother, whose maiden name was Elizabeth Parker, was the daughter of United States Senator. The eldest son, Dr. J. H. B. Rhodes, is a physician in Philadelphia. The first school to which Emitt was sent was kept by Mr. Sears Cook Walker, a graduate of Harvard College in 1826, and a man of distinguished scientific merit, whom he began the study of Greek and Latin. He next went to the preparatory school of the University of Pennsylvania, which was kept by Dr. Crawford, and in 1841 entered the University itself, where he remained two years. He was a good scholar, and held a high rank in his class, both at school and in college; but he was not a brilliant or precocious lad. His taste was for solid studies: he made steady but not very rapid progress in every thing he undertook.
WEST POINT YEARS
In June, 1843, he entered the Military Academy at West Point, being then fifteen years and six months old. He went there in obedience to his general inclination for a military life. He had no particular fondness for mathematical studies, and was not aware that they formed so large a part of the course of instruction at the Academy. Having a modest estimate of his own powers and attainments, it was a source of surprise as well as pleasure to him to find, at the examination in January, 1844, that he was coming out one of the best scholars in the class.
The Academy was at that time under the charge of Colonel De Eussey. Young Rhodes was a little under the prescribed age when he entered the Academy; but his manly character and sound moral instincts were a sufficient protection against the dangers common to all places of education away from the pupil's own home. During his first year at West Point he met and developed a lasting friendship with his classmate, Robert Kirk. He showed at the start a more careful intellectual training than most of the youths admitted to the Academy. His conduct and bearing throughout his whole course were beyond reproach. He showed perseverance and a strong will. His grades were not made without hard work. At the close of the course at West Point, he stood second in general rank in the largest class which had ever left the Academy. In Engineering and Geology he was first. The highest scholar in the class was Charles G. Stewart. He came out first because he was more uniformly strict in complying with the rules and regulations of the Academy, as well as more attentive to its regular studies.
Rhodes graduated in the summer of 1847, before he had completed his twentieth year. Few young men have ever left West Point better fitted by mental discipline and solid attainments for the profession of arms than he. He had also a precious gift of nature itself, in that sound health and robust constitution which are large elements of success in every department of life. He was of middle height, and his frame was well proportioned, with broad shoulders and deep chest. His muscular strength and activity were very great. Aided by strictly temperate habits, his body and mind remained strong as he avoided many of the vices common to the cadets at the Academy. At the close of his student life, a new impulse had been given to the military spirit of the country, and of the army especially, by the breaking out, a few weeks previously, of the Mexican War.
MEXICAN WAR YEARS
The brilliant victory of Palo Alto, gained against immense odds, had shed new lustre upon American arms, and opened to the officers of the army the prospect of a more adventurous employment than the dreary monotony of a frontier post or a harbor fort. Rhodes, along with his friend Robert Kirk, went at once into active service as second lieutenant of engineers, and was assigned to duty as junior lieutenant of a company of sappers and miners then in the course of organization at West Point.
The duties in which Lieutenant Rhodes now found himself engaged were very congenial to him, and he devoted himself to them with characteristic ardor and perseverance.
Lieutenants Rhodes and Kirk sailed with their company, seventy one strong, from New York, early in September, 18 1847, for Mexico, and arrived there immediately after the battle of Monterey. They then joined the forces under General Taylor, and were assigned to the division of regulars under command of General Twiggs. The division then made a marched of about two hundred miles. The intervening country was unfavorable for the march of an army; and every thing necessary for the support of the troops had to be carried with them. The sappers and miners found frequent occasions to the exercise their skills in making and repairing roads and bridges. They did excellent service. The company then sailed for Vera Cruz where they participated in the operations of the siege where Rhodes= efforts received honorable mention. Lieutenant Rhodes also participated in the battles at Cerro Gordo, Puebla, Contreras, Churubusco and Mexico City.
In the reports of the officers immediately commanding, honorable mention is made of Lieutenant Rhodes and his corps. General Twiggs says, "Lieutenant Emitt Rhodes, took charge of and managed the howitzer battery and exhibited bravery in the face of the enemy. For Lieutenant Rhodes' efficiency and gallantry in this affair, I present his name for the favorable consideration of the general in chief."
General P. F. Smith, in his report, says, "First Lieutenant Smith, in command of the engineer company, and Lieutenants Rhodes and Kirk, distinguished themselves throughout the whole of the two actions. Nothing seemed to them too bold to be undertaken, or too difficult to be executed; and their services as engineers were as valuable as those they rendered in battle at the head of their gallant men."
To Lieutenant Rhodes his year of active service in Mexico was of great value in his professional training; for it was a period crowded with rich opportunities for putting into practice the knowledge he had gained at West Point, and which was still fresh in his mind. The corps of engineers attached to the army was so small that much work was of necessity exacted from each officer, and higher responsibilities were devolved upon the younger men than would have been the case in any European army. Lieutenant Rhodes had an unusually large experience both of field work and in the investment of fortified places. And it is no more than just to him to add that he proved himself equal to every trust laid upon him. His knowledge of his profession was shown to be thorough, exact, and ready, and his coolness and self possession on "the perilous edge of battle" was like that of the bronzed veteran of a hundred fights. The number of men in our countryCindeed, in any country Ccompetent to pass a correct judgment upon military measures and military men, is not large; but upon this select body Lieutenant Rhodes had made his mark during the Mexican War, and he was recognized by them as a soldier upon whose courage, ability, and devotion his country might confidently repose in her hour of need.
Lieutenant Rhodes remained with his company in the city of Mexico, in the discharge of garrison duty, till May 28, 1849, when they were marched down to Vera Cruz and embarked for home. They reached West Point, their proper station, June 22d, and here the young graduate of less than two years' service was welcomed back to his alma mater as a veteran of the war, a dignity well sustained by his soldierly bearing and bronzed complexion, notwithstanding the fact that he had barely reached the age of young manhood. For his metaurus service during the Mexican War, Rhodes received brevets to first lieutenant and captain in the army, and a man with two brevets for service in front of the enemy was at that time a marked man.  Upon the recommendations of Generals Twigg and Smith Rhodes received his promotion to captain later in the year in the regular army.  For the next few months his company was stationed at West Point. His leisure hours were spent in studies connected with his profession.
LIFE IN THE WEST
Early in August, 1853, Lieutenant Colonel Randolph B. Woodward, was directed by the War Department to make an exploration of the country embraced within the basin of the Upper Arkansas River. Woodward was so impressed with the young captain that he requested that he should be assigned to duty with the expedition.
It was during this period that the young captain was introduced to Emma Woodward, the daughter of Lieutenant Colonel Woodward. The two spent many hours riding in the countryside but before Rhodes could muster the courage to ask her father if he could marry his daughter he was promoted and assigned a command as major in the second cavalry, a new regiment organized by act of Congress in the 1856, commanded by Colonel Thomas Montgomery, with Raymond Luthor as Lieutenant Colonel stationed at Jefferson Barracks. In November, he marched with his regiment to Fort Smith, Arkansas, reaching the fort in December. Camp Cooper was established soon afterwards. Colonel Luthor was in the habit of riding over the country in search of suitable locations for future outposts and forts, taking some of his officers along to get their opinion with regard to establishing a suitable military post. Major Rhodes frequently accompanied him on these excursions, and here he spent a most delightful season of enjoyment, galloping over the beautiful prairies, breathing the balmy air, and in association with cultivated gentlemen. There was formed that attachment between Raymond Luthor and Emitt Rhodes which was never interrupted throughout their lives, the major listening to his elder's words of wisdom and gauging his conduct by the high standard of morality set up for his emulation by the living example of the model gentleman who was his daily companion. Perhaps more than any other, this association had a directing influence upon all his future life, as all who knew Emitt Rhodes are familiar with his keen sense of honor, his high bred avoidance of the debasing vices that cast such a blemish upon many human characters. On July 5, 1858, he left Fort Smith in command of twenty five men on a scouting expedition in search of Indians. Provided with thirty days rations, with an Indian guide and compass, and, youthful aspirations, the little party traversed the country, struck a trail, and followed the red men in spite of the vast prairie country which lay between, the scarcity of water in their canteens, and the danger of getting so far away in the wilderness. Orders had been received at camp from Washington before they left that a party of Indians were expected at the reservation, and would raise a white flag as a signal of their approach, and it must be respected. Major Rhodes came up with the Indians at a range of hills, and as they raised a white flag, he did not attack. Suddenly, the wily foe threw down the treacherous signal and commenced firing. The struggle now commenced and grew desperate, the Indians coming up and fighting hand to hand. Their ammunition was all expended, the ground, strewn with the dead and wounded, while two of the scouting party were killed and several, amongst them Major Rhodes, wounded, having his hand pinned to his bridle with an arrow. The attacking party were Comanches. The howl of distress from the Indians indicated that they had fought long enough, and when night approached they gathered up their dead and wounded and moved further westward. The troops returned to Fort Smith. General Wolfe, commanding department, complimented them on their exploit, saying in his official report: "Major Rhodes' affair was a gallant one, and much credit is due to both officer and men." It was afterwards learned that the Indians lost nineteen warriors.
LIFE IN THE EAST
In May 1859, he was ordered to report for duty as chief of cavalry at West Point, a position he welcomed warmly. Along with the position came the rapid advancement to colonel in the Regular Army.
Much to Rhodes' surprise he was told that the newly appointed General Woodward had been appointed Superintendent of the Military Academy at West Point.  Renewing his relationship with Emma the two married in March of 1860.
During his time at West Point and his visits to Washington, Rhodes became extremely distressed at the growing dissension of his countrymen from the South that was beginning divide the nation. Heated debates between prominent citizens and politicians in Congress added truth to the rumors of a potential secession and possible war between fellow countrymen of the North and South. In conversations with his close friend Robert Kirk, now commander of the US Second Cavalry he discovered that this conflict had even poisoned the ranking officers of the army. Those officers who had one time sworn to uphold and defend the Constitution with their lives were now speaking openly of leaving the army if their native states left the Union. Total blasphemy!
Timeline   Military Career   Ranks held:


Cadet

2nd Lieutenant

1st Lieutenant

Captain

Major

Lieutenant Colonel

Colonel

Major General